11+ Best Cheap Skateboards In 2022 (Top Budget Skateboard)
Are you looking for a cheap skateboard without compromising on its built quality and feature? Are you a beginner who wants to learn skating without spending hundreds of bucks on buying featureful skateboards?
If yes (of course you are), you have arrived at the right place because this guide will review the best cheap skateboards.
Buying a cheap skateboard doesn't necessarily mean opting for a lesser quality product. The quality of a skateboard depends on parameters like deck material, truck size, bearings, and wheel type.
Additionally, buying a durable affordable skateboard requires proper research. Lucky for you, we have already done the research part in the following guide.
See also: Best Complete Skateboards || Best Skateboards For Kids || Best Skateboard For Beginners Adults
Top 11 Best Cheap Skateboards in 2022
1. Cal 7 Complete Skateboard – Best for Overall
View at Amazon || View at Cal-7
The Cal 7 Complete Skateboard is an all-rounder skateboard with soft wheels and sturdy trucks.
It's one of the cheap good quality skateboards with a deck size of eight inches and a truck size of 5.25 inches.
Additionally, it features ABEC 7 bearing guaranteeing a smooth ride.
The trucks are made of aluminum, making them lightweight, thus adding minimal weight to the skateboard. This advantage is a big plus for someone with a large body like me. It has given me more confidence to follow my passion.
It comes with a wheel size of 52mm/100A urethane wheels, which provide the required grip and minimize slippage around the corners.
The deck is made with 7-ply Maple to ensure both flexibility and durability. It comes with a double-kick tail symmetrical design.
The best thing is that it comes with an 80AB edge-to-edge black grip tape to support your foot during the ride. Yes, it helped me stabilize my feet and balance more easily when I first hit the skateboard. Moreover, the grip tape prevents the deck from collapsing in case a heavyweight person rides it.
The intact wheels are softer and broader than the standard wheels, along with a rating of 99 on a durometer. The rating implies that they are harder than regular shoe soles or even shopping cartwheels.
A contrast artwork of coinciding signal waves is painted in bold colors on its underside.
Bottom line: Cal 7 Complete Skateboard is the first product to pass all 12 features for durability, smoothness, flexibility, and stability. I highly recommend this product for its full power to give you an immersive experience.
2. Krown Rookie Checker Skateboard – Best for Budget
View at Amazon || View at Tgmskateboards
The Krown Rookie Checker Skateboard is known for its elegant and catchy design. The Krown has been designing state-of-the-art skateboards since 1996.
This skateboard comes under the category of big-size skateboards with its 7.5 x 31 inches long deck. This one has made it easier for me to rotate my legs. Or it is also a good idea for my friends and me to experience together on each trip.
The deck comes in Canadian Maple, which is considered one of the sturdiest wood materials for skateboards.
The concave shape allows you to learn riding skills in a lesser time.
Its 4.7-pound weight is another plus, allowing you to carry it around quite conveniently. Since purchasing this product, I have confidently brought the board to many areas for advanced training. Accordingly, the preservation process is also much faster and more convenient.
Additionally, the 52mm Graphic wheels are made with Urethane material to ensure a fast and smooth ride. Unfortunately, the speed is quite fast, which may be uncontrollable at times, especially for beginners.
Moreover, the bearings come with an ABEC rating of five, which adds to the skateboard's overall durability.
It comes with a coarse black grip tap to add to the resistance between the rider's shoes and the deck during turning.
The five inches truck aligns perfectly with the 7.5 inches wider board. Made with aluminum, they are scratch-proof from the regular friction around the corners and don't break easily.
Bottom line: Krown Rookie Checker Skateboard's budget is affordable and suitable for many middle-income users like me. However, the power of graphics and solid texture in this product is still not inferior to other skateboards on the market.
3. KPC Pro Skateboard – Best for Impressive Concave Design
View at Amazon || View at Tgmskateboards
Among good cheap skateboards for beginners, KPC Pro is right up there with total dimensions of 8 x 32 inches.
It comes with a modern concave shape, which serves the dual purpose of providing both comfort and balance simultaneously. Since having this board, my fear of injury has disappeared, replaced by excitement and peace of mind for each trip. The concave design has really made me more confident and assertive in my handling.
With a weight of around one lb, it's durable enough to carry heavyweight adults. A lot of credit goes to the aluminum alloy trucks which support the rider's weight.
Moreover, the high-quality wheels and ABEC 7 bearings are a perfect combination to guarantee a smooth ride.
Not only that, the bearing system guarantees a frictionless ride with minimal manual effort.
It comes with a Canadian Maple deck construction, which is one of the top-rated deck materials. I appreciate the quality of this material, which is super hard and has remarkable durability.
A black grip tape runs along an eight inches deck to add to the skateboard's sturdiness to support heavy riders.
It comes fully assembled, saving a lot of time and energy spent on its assembling.
Lucky for you, it supports 360 boneless tricks. Not only that, it's a perfect riding choice for both streets and parks.
Bottom line: I appreciate KPC's concave design. It makes stability and balance easy for beginners like me. Not only that, but this board also guarantees a high-quality wheel system and remarkable durability.
4. ANDRIMAX Skateboard – Best for Anti-slip and Waterproof
Via: Amazon.com
The ANDRIMAX Skateboard is an apt choice for beginners with its robust seven layers of Maple.
It features a non-slip and waterproof surface, which offers enough resistance to provide stability to the rider's feet. Additionally, it makes riding safe during light rain. Quite doubtful about this, I went directly to the test, and I got back a shock. This board is perfect for rainy weather and ensures keeping your feet stable in the safest position so that unexpected incidents don't happen.
It features a double-warped design to make the skateboard suitable for beginners to learn tricks such as sharp turns, slides, and pivots.
The double-deck offers safety during a swift turn, thus preventing any unbalancing or tripping.
It's able to achieve a high acceleration. However, it doesn't provide enough speed as compared to the skateboards previously discussed.
The grip tape comes with a shiny surface to match and add to the stylish look. Not only that, but it also provides the desired grip and comfort to the rider's feet.
It offers 95A 53mm high rebound PU wheels, which are known for providing a firm grip on all types of roads. This board can still grip the road well and effectively regardless of the surface. During an experience in the rain, it surprised me with a super great performance. No problems occurred to me during 6km of a slippery road.
Additionally, the ABEC 11 bearings are responsible for ultra-smooth and silent rides.
One noteworthy feature is its high rebound PU damping system for trucks offering added comfort and safety.
Bottom line: The anti-slip and waterproof ability of this product amaze me, helping to protect. Make sure your every trip is safe. By owning this product, you will minimize unwanted injuries.
5. Xtreme Free Skateboard – Best for Sizes
Via: Amazon.com
The Xtreme Free Skateboard is an affordable choice for beginners who want to learn skating.
It comes under the category of long skateboards, with its deck measuring around 31 L x 8 W inches. These dimensions are perfect for facilitating both adult and young riders.
One of its coolest features is that it emits night light in the dark, allowing the rider to navigate the path. I have used it to navigate in the dark. Although the light is not perfect, it can still help me walk more easily.
It features eight piles of high-quality Canadian maple wood, which provides extra flexibility and strength.
Moreover, the aluminum alloy stents are responsible for easy maneuvering and smooth turning.
The 54 x 37 mm PU wheels and ABEC 9 bearings are perfect for ensuring smooth surfing in parks and bumpy streets. On uneven surfaces, windsurfing can be the leading cause of injury. But for me, it was a fascinating challenge, and I chose this board for my trip. It's quieter and safer than I thought.
Bottom line: I'm pretty interested in the sizing details of each product, as it relates to adaptability and rides control. And the Xtreme Free Skateboard is a product you can't miss because of its attractive standard size. It deserves to be your top investment.
6. WhiteFang Cheap Skateboards for Beginners – Best for Load Capacity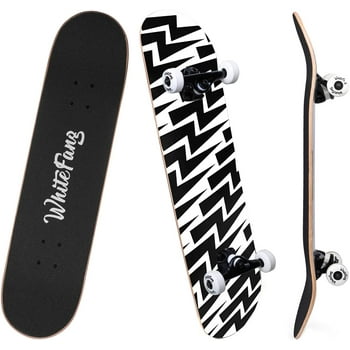 View at Amazon || View at Walmart
With a total dimension of 32.75 L x 7.88 W inches, the WhiteFang skateboard is an optimal choice for both beginners and professionals.
It features a seven-ply Canadian maple deck that is responsible for a balance between sturdiness and weight management.
The best thing is that it offers a weight capacity of 390 lbs, which is the highest among the skateboards discussed above. It is a large number that surprised me a lot. This one is equivalent to the weight of 3 people like me combined. And it's great for people like me to have more confidence to follow their passions.
It comes with five inches of magnesium alloy trucks to ensure stability during regular skating and tricks.
One downside is that it comes pre-assembled with loose trucks. I am not interested in assembly because my work is hectic. Nonetheless, it's easy to tighten them afterward.
By the way, it's essential to tighten the trucks to prevent wheel bites.
The 52mm, 95A high rebound PU wheels offer quiet and smooth riding, making it suitable for regular commuting on both rough and flat grounds.
It features ABEC 9 bearings system to facilitate stability and comfort during the ride.
Bottom line: For many people, being too big is a nightmare, and they cannot pursue their passion for skateboarding. Don't worry about this because there are WhiteFang Cheap Skateboards. This board is perfect for the large load capacity that you should refer to.
7. Meketec 22 Inch Mini Cruiser Retro Skateboard – Best for Flexibility
View at Amazon || View at Walmart
As the name suggests, the Mekectec 22 inch Mini Cruiser Retro Skateboard is a mini-cruiser weighing only 3.8 lbs. It's one of the best cheap skateboards that guarantees a well-controlled ride by preventing any bumps within dense traffic.
See also: Best Penny Boards
This portable 22 L x 6 W inches cruiser can easily fit in the backpack.
It offers a versatile ride during routine skating to both kids and adults.
The deck is made with bendable Polypropylene material instead of regular ply or any other wood material. Owning this product has helped me limit the damage caused by skateboards when surfing unsuccessfully. Its bendability is practical for a quick quality recovery after free-falls.
The aluminum truck wheels are sturdy enough to carry a weight of 200 lbs.
The 3.25-inch trucks are thick enough to provide both control and high speed simultaneously. Not only that, it allows you to practice different maneuvering skills such as sharp turns.
It features a non-slip board for added safety and grip. I created the test situation in the rain, which still says adequate board traction and anti-slip performance.
By the way, its CE certification is enough to ensure the riders' safety at any skating level.
This well-built skateboard comes with soft PU 78A wheels, which provide a smooth ride.
The high-speed ABEC 7 bearings provide the desired shock absorption capacity on rough and bumpy streets.
Bottom line: Looking for products with versatility? Meketec 22-Inch Mini Cruiser Retro Skateboard is the ideal suggestion for you. I think it is the most powerful model in terms of stability, flexibility, and smoothness that you should buy.
8. JECOLOS Pro Skateboard – Best for Premium Materials
View at Amazon || View at Kingtoys
The JECOLOS Pro Skateboard is an optimal choice for beginners who are looking to buy an affordable skateboard.
The dimensions measure 31 L x 8 W inches, providing enough space for the adult riders to comfortably place both feet.
It offers support and balance to a maximum weight capacity of 220 lbs.
Not only that, but it also features a high-density seven-layer maple wood to add to its overall strength.
The non-slip surface ensures a powerful grip by providing the required resistance between the surface and the rider's feet.
The shock-resistant 50 mm PU wheels coupled with ABEC 7 precision bearings guarantee a smooth ride even on bumpy streets.
It features a full-length concave design making it an all-rounded skateboard for all levels of riders. Additionally, the vintage pattern and simple braking mechanism enhance the overall control.
Luckily, it comes pre-assembled, saving you from the hassle of assembling its parts. As a busy person, I am incredibly interested in this product feature. Just order and unbox, and all matches can start.
This well-constructed skateboard comes with thick aluminum trucks and a steel axle to support the rider's weight.
Bottom line: I am especially interested in the skateboard material used because it is directly related to the sustainability and stability of the product. I recommend you buy JECOLOS Pro Skateboard because it has suitable materials and provides an attractive anti-slip surface and an effective shockproof wheel system.
9. Sangade Easy_Way Complete Skateboard – Best for Hard Moves
Via: Amazon.com
The Sangade Easy-Way Complete Skateboard comes in a perfect popsicle shape with a retro design.
The deck measures around 31 L x 8 W inches, perfect to support both beginners and professionals. Additionally, the deck is made with seven-ply maple wood giving the required strength to support the rider's weight up to 220 lbs.
As far as the design is concerned, it comes in a light radial concave shape with flat flex and a raised nose and tail. This design makes a lot of sense for a beginner like me, helping to stabilize the foot position and create balance for light and safe surfing.
It features 95A durometer 65mm PU wheels coupled with an ABEC 11 bearing system to exhibit high performance during skating.
It's important to mention that 95A wheels are harder. Meaning they provide higher speed, however, lesser stability, especially on rough terrains.
So, the choice lies between speed and stability when it comes to selecting the Sangade skateboards.
Another cool thing is that the dual kicktail facilitates all kinds of tricks such as ollie, hops, and flips to make skating even more fun.
The paint-coated aluminum body is hard enough to withstand bumps and endure rough streets. It is an outstanding advantage compared to the products I have just reviewed, helping to maintain the quality of the product so that you have more exciting trips.
Bottom line: I understand your difficulties when learning to surf. And that's why I recommend Sangade Easy_Way Complete Skateboard, which will help you handle the problematic steps best. With the current cost, I recommend you choose this product for your experience.
10. PlayWheels Ultimate Spider-Man Skateboard – good cheap skateboard – Best for Graphics
View at Amazon || View at Walmart
The PlayWheels Ultimate Spider-Man Skateboard is an excellent choice for spiderman fans who want to learn skating.
The 21 inches long deck provides enough balance and coordination for beginners. Moreover, the deck is made with nine-ply maple wood to ensure strength and durability.
One of the coolest things is that the deck featured vibrant graphics of spiderman on both sides.
The grip surface provides firmness to the rider's feet to prevent unwanted stumbling.
The deck is six inches wide, which is great for smaller feet.
Unfortunately, it doesn't provide enough room for proper footing for adults. I let my kids try this board, and luckily, it just fits my baby. That is why it's more suited for kids between the ages of 5 – 10.
It comes with a single kicktail that provides easy maneuvering around the edgy corners.
The PVC-injected 50mm x 27 mm wheels are coupled with nylon bearings to deliver a smooth ride in parks and sidewalks. I used a board to walk on gravel, and this board is still stable and smooth to help me go all the way.
Bottom line: Graphics to me are the most important because it helps create specific inspirations when playing. This version can also get effective skid resistance and a sturdy alloy truck system.
11. PHOEROS Skateboards – cheap complete skateboards
View at Amazon || View at Walmart
The PHOEROS Skateboard is a unisex 31 L x 8 W inches Maplewood board for both kids and adults.
It features a non-slip wooden deck with dull polish, which stability and safety during the ride.
The 95A PU wheels are not only softer but also exhibit top-class grip during speedy gliding.
Moreover, the ABEC 11 bearings are responsible for the smooth and silent turning of the wheels. Luckily, it also facilitates the riders to exhibit tricks and maneuver around the corners.
It also comes with waterproof anti-slip tape to enhance the rider's safety. By the way, it's effortless to stop it even at high speed without stumbling. I have experienced this feature, and they ultimately convince me. It makes it easier for me to adjust the pace so I can be self-sufficient for my ride.
The package includes a carry bag, two backup bearings, and a handy tool for wheel tightening. You can also make it look cool with its decorative sticker.
It provides you enough room for customization to give it a more personal touch.
One of the most reassuring things is its one-year warranty. It also provides 24-hour online customer support for assistance.
Bottom line: The complete PHOEROS Skateboards is my collection's best and most practical. It has the right size for adults and children, and the truck system is smooth. Therefore, you should not miss this masterpiece.
Are Cheap Skateboards OK to Buy and Ride? And Who is Best Suited?
It's a conditional yes.
Skateboards have been popular among both children and adults for long. Consequently, the choice of the skateboard type depends upon the expertise level of the user.
For instance, some of you are interested in learning basic street skating.
Implying if you are a beginner, it's better to go for a cheap skateboard. Moreover, it also depends upon your seriousness to learn to ride a skateboard.
Cheap But Good Skateboards
Another condition is its use. You can go for a cheap skateboard if you intend to ride it occasionally.
To sum up, you can opt for the best affordable skateboards discussed above if you are a beginner or for in-frequent riding.
Other than that, if the budget isn't a problem, then who are we to stop you from buying a high-quality, expensive skateboard?
Buying Guide For the Best Cheap Skateboards
It's effortless to find cheap but good skateboards in the market. Are you wondering how?
Go through the following factors to find cheap good quality skateboards.
Style
Always matters! It serves as a foundation to develop skateboard riding skills. You can choose between a street or transition style based on your personal preference.
Deck Size
It's the main deciding factor that ensures safe skating. You can select either a full, mid, micro or mini size based on your weight and height.
A bit of friendly advice is not to go for a retro or a cruiser skateboard right at the beginning of your skating journey.
A slow start is a right way to learn skating. So, it's better to opt for a conventional board shape. It helps you understand general flat ground tricks and bowl pumping.
Generally, a 7.5 to 8 inches deck ensures smooth street skating.
However, it's better to go for a larger deck size of more than eight inches if you wish to ride in parks.
If you don't have any riding niche, a friendly recommendation is to go for an eight inches wide and 30 inches long deck.
Deck Material
Decks are built by pressing together wood layers to make them flexible and light. Additionally, the edges are then rounded to enhance drifting and steering.
Generally, a deck is made with plywood. Standard decks are constructed with 7-PLY Maple, which adds to the overall sturdiness and balance.
On the other, decks with lesser plywood are even more flexible and lighter.
The choice is entirely yours because the trade-off here is between strength, flexibility, and weight.
Concave Curve
The section which runs between the nose and tail is known as the concave. It curves upward slightly on the front and rear sides.
Most of the best budget skateboards offer a diverse range of concavity – continuous, mellow, standard, and high concave.
Many skaters prefer a high concave, which provides more leverage and aids in easy flipping.
But again, it depends majorly on the style and riding preference.
Wheels
They are the make-or-break point for any cheap but good skateboard.
A rule of thumb is that street skating wheels are usually smaller than those of park wheels. It makes them lightweight and more responsive toward turning or flipping.
Wheel size is usually measured in millimeters. So, the recommended length for riding a skateboard in the streets ranges from 49 to 52 mm.
However, it's better to go for a 54 to 60 mm wheel size if you want to go for a vert or transition skating. Why?
Because a large size covers more surface area, thus guaranteeing you more speed.
In addition to the wheel size, it's also essential to consider its primary construction material.
Rubber wheels, for instance, provide the least grip on the road's surface and may easily tear apart.
A wise approach would be to go for urethane wheels, which ensure more stability and grip.
Trucks
These are the metallic axle parts responsible for most of the skateboard's weight. They depend upon the deck size.
Ideally, the axle length must be compatible with the width of the deck. It means that trucks should perfectly align with the deck's width without sticking out or in.
For instance, a truck size of 149 millimeters is an apt match for a standard eight inches deck.
Bearings
They support the wheels to spin smoothly. The ABEC rating assists in understanding the skateboard's quality. It usually starts from ABEC 1 and goes all the way up to ABEC 9.
ABEC 9, being the highest, implies more advantages and higher quality. These bearings are delicate and offer more precision allowing the wheel to spin faster.
However, skateboards don't need ABEC 9 bearings. Why? The jarring motions and frequent slamming will destroy such delicate bearings.
Summing up the bearing discussion, it's better to opt for bearings ranging from ABEC 5 to 7.9.
By the way, a lower five rating is an optimal choice for good cheap skateboards.
FAQ
How Much Should a Good Cheap Skateboard Cost?
Generally, the best affordable skateboard costs between $70 and $80.
On the other side, you can easily buy one of the best cheap skateboards for between $30 to $40.
The price of a premium quality skateboard is usually more than $100.
Is It Possible to Make a Skateboard Cheaper?
Absolutely yes.
All you need to do is buy the parts separately from a second-hand shop or a thrift store.
You can quickly build your customized, cheap skateboard.
Making your skateboard gives you full freedom to customize it with different parts to view your comfort zone. Additionally, you can color it accordingly to give it a more personal touch.
What Is More Cheaper? Buy or Build a Skateboard?
It's a case-based question depending primarily on your personal preference.
Usually, you can easily buy one of the best affordable skateboards instead of building it from scratch.
Although you can quickly build a cheaper skateboard, however, the emphasis here is on all the manual effort, which hasn't been considered while comparing.
For beginners, a wise decision would be to go for a fully assembled skateboard instead of a DIY one.
Later on, you can customize your skateboard once you are a pro. It does make sense. Right?
How Much to Spend on a First Skateboard?
You don't need to complicate things if you are a beginner and buying a skateboard for the first time.
Moreover, there is no need to spend loads of money after being tempted by a long list of features available on high-end skateboards.
Always opt for the best budget skateboard, which is sturdy and flexible. You can easily buy one for under $30 one of the cheap but good skateboards.
However, be careful not to go for a cheaper one with low-quality deck material because it will prevent you from learning how to skate correctly. Moreover, it will compromise your safety.
You can also find many so-called cheap complete skateboards for around $50 with cool features. Again, don't fall into the trap of expecting them to perform like pro skateboards.
That is why the above guide will help in buying one of the best affordable skateboard reviewed above.
What's the Price of a Decent Skateboard?
You can easily buy a mid-range skateboard between the range of $80 – $100. Conversely, a top-quality skateboard costs several hundred bucks.
What Makes Skateboards Expensive?
Yes, a good-quality skateboard is pricey. Are you wondering why?
It's because of the expensive high-quality parts such as bearings, wheels, and trucks. The size and material of the deck matter the most in deciding its final price.
Rubber or plastic wheels are cheaper. But, upgrading the wheel type will cost you more.
Similar is the case with the bearings. As discussed in detail previously, a bearing with less than ABEC 5 rating isn't recommended.
What's the Best Option? Online vs. Walmart Skateboards
It sounds like a tricky question, but it's not.
You can order online from one of the best cheap skateboard brands on either Amazon or eBay. Not only that, you can compare the features and make a well-informed decision while buying online.
On the other hand, skateboards available at Walmart aren't of good quality even though they are relatively cheap.
Conclusion
In sum, cheap complete skateboards do come with high-quality features for both beginners and professionals. All you need to do is to follow the above buyer's guide.
Based on the deck size, bearing quality, and wheel type, the editor's recommendation goes to the Cal 7 Complete Skateboard. With its ABEC 7 bearings and urethane wheels, it's bound to provide a smooth ride on both parks and streets.
Via: Amazon.com
The 7-ply eight inches maple deck coupled with 5.25 inches truck provides the required stability and balance. On top of it, the grip tape adds to the overall support of the rider's feet.
Lastly, its one-year warranty ensures a long-term safe investment saving you from worrying about repairing any damages from your pocket. So finally, we have helped you choose the best cheap skateboards. What are you waiting for? Go and get it now!
Incoming Search: cheap complete skateboards, budget-friendly skateboard,