Top 12 Best Complete Skateboards in 2023 (Tested)
Putting together a skateboard is not easy, especially if you're a newbie in the skating world. Complete skateboards come pre-assembled and ready to ride, so if you don't want to put together your board, this is a good option.
However, finding good complete skateboards is not an easy task.
Don't worry, though. Lady luck, it seems, is on your side. In this post, we'll be reviewing some of the best complete skateboards on the market. We'll look into the features of each board and see what pros and cons they have.
In addition, we've put together a simple yet informative guide to buying skateboards. It contains everything you need to know before purchasing your own skateboard.
If you're eager to learn more, let's get started!
See also: Best Skateboards For Tricks || Best Skate Brands
Top 12 Best Complete Skateboards In 2023
Finding good complete skateboards is difficult, but we've made it easier for you by listing down some of the best complete skateboard brands and their models.
1. KPC Pro Skateboard – Best for Beginners
If you're looking for an affordable skateboard that allows you to have a fun skating experience, then you might want to give the KPC Pro Skateboard a shot. Being in the industry for twenty years, Krown uses its knowledge to provide users with a board that ensures a high-quality skating experience.
This 8-inch x 32-inch board is a good option for those skateboarders who need to level up from their beginner broads. The Ace of Spades deck is sturdy, and the concave shape allows you to perform tricks efficiently. I appreciate the impact resistance of this board. Even though it has been subjected to hundreds of physical impacts, it still preserves a sturdy quality to help me have safe rides.
You can glide down the streets on the 99A PU wheels that measure 52 mm and have ABEC-7 precision bearings. To help you maintain your balance, the deck also has an 80-grit black grip tape.
Plus, if you're picky when it comes to graphics, then you're in luck because you have various colors to pick from. I'm picky, so it's hard for any product to satisfy me. But, KPC was able to change me with various colors. I am satisfied with the graphic detail of the product.
What's more, is that the KPC is one of the best budget complete skateboards despite all these features. You can get some great features at a low price.
Verdict: As a beginner and experienced product, I appreciate the overall quality of this board. The material, the price, and the stability are great for safe trips.
2. Powell Golden Dragon Complete Skateboard – Best for Overall
Contrary to what you may have heard, picking the right board during the beginning stage is essential. Say you get a board that is designed for cruising and attempt to perform tricks on it. You could end up hurting yourself. The Powell Golden Dragon is an excellent option for beginners who want a good quality board at a reasonable price.
See also: 11+ Best Skateboards For Beginners 2022
You're bound to fall the first few times you skate, which is why it's important to get a board that stays strong against impact. This Powell board is sturdy and has an additional polymeric strip that holds the board together even when there's a crack. 
The hand-cast polyurethane wheels have a high rebound, which is great because this means you'll be able to glide smoothly and have a good grip as well. Moreover, the deck has grip tape on it, which gives you more control. I was pretty surprised at its precise speed control. On the track, it helped me make multiple speed adjustments for perfect technical execution.
With the 31.5-inch x 7.5-inch concave deck, tricking is also quite easy. So, if you wish to learn to trick, this board is a good place to start. This board allows you to fool your opponent quickly. I experienced this feature, and I am sure you will enjoy it.
However, keep in mind that the wheels on this board are a bit on the harder side. This means that cruising on this board may not be easy for everyone. If you want a board for cruising, we suggest you look at some of the other options on this list.
Along with the great grip, the sturdy deck makes this one of the best complete skateboards for beginners.
Verdict: The overall look of this board is what I wish I could find as soon as possible. Its unique design and quick-rebound wheel system allow for the most engaging rides.
3. Minority 32-inch Maple Skateboard – Best for Smooth Wheels
Do you know what is the most important factor when it comes to trick boarding?
Control? A sturdy deck? Practice?
Yes, while all three are important, smooth and fast wheels are also essential when it comes to trick boarding. If trick boarding is your area of interest, then you might like Minority's 32-inch Maple Skateboard.
The 52 mm 102A polyurethane wheels come with chrome steel ABEC-9 precision bearings that allow users to speed along on their boards. It is a good suggestion for me to have gentle trips on rocky roads. And I like that, and it makes me happier and more comfortable. In addition, this board has a high rebound polyurethane brushing of 78A. It also has aluminum alloy trucks with carbon steel kingpins.
All these features provide skateboarders with greater speed and control to perform tricks. You don't need to hold your breath when you need to cut through a corner or need to make a sudden turn. This board allows riders to easily maneuver through street corners, skateboard ramps, and pools.
The 7-ply hard rock maple deck of this board measures up to 32-inch x 8-inch. The concave shape of the deck is perfect for tricks. The open texture of the board is excellent for creating the most stable balance. Right from the start, I chose this product and am proud of my decision. Besides, this sturdy board can hold up to 220 lbs, making it great for adult riders.
Minority tries to cater to as many skaters as possible, which means you'll find a wide range of graphics to choose from.
Verdict: I value ride comfort, so I chose Minority. This particular version has a smooth wheel system and a sturdy board material to make your races safer and more accessible.
4. M Merkapa 31-inch Pro Skateboard – Best for Effective Impact Resistance
Tired of getting skateboards that snap in two just after minor impacts? Beginners, in particular, face this issue more than others. The M Merkapa 31-inch Pro Skateboard is a sturdy skateboard that can hold up against high impact, making it great for both beginners and pro-skaters.
This 31-inch x 8-inch board has non-slip grips that allow your feet to stay firmly planted on the deck as you perform tricks. Its high slip resistance surprised me.
Although the weather was not favorable, the board's surface got wet, but it always fixed my feet and did not let them slip off pointlessly. The 7-ply super-flex maple deck is quite sturdy but not too stiff for tricks. I love the material quality of this board because it gives me more peace of mind about the rigidity for longer trips.
Keep in mind that this board has a weight capacity of 300 lbs for simple skating. However, for trick boarding, the weight is reduced to 198 lbs.
For smooth gliding, this board comes with 95A polyurethane wheels with ABEC-8 bearings. In addition, you'll find 5-inch aluminum alloy rucks with 95 A bushings.
Whether you want to roll along on the streets or you want to perform cool tricks in the skate park, this board is a great option to look into.
Merkapa also gives skateboarders a few color and design options for the deck.
Verdict: The impact resistance is more critical for a low-level player like me. It helps the board to be more stable after every fall and strongly impacts other hard surfaces.
5. WHOME Pro Skateboard Complete – Best for Street Practice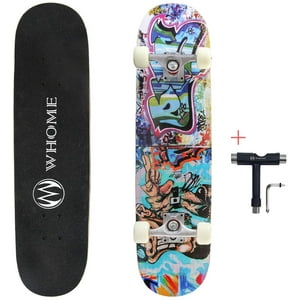 If you're a beginner looking for a skateboard suitable for the streets, then look no further than the WHOME Pro Skateboard Complete. This 31-inch x 8-inch board is sturdy thanks to the 8-ply alpine hard rock maple wood.
The tail of this double kick concave skateboard makes it easier for you to perform ollies, flips, and other tricks. This board is a good idea for me to practice my higher skills. I have been using it for training and can be more confident in my surfing level. You can also have better command on your board due to the premium grip tapes that prevent you from slipping off.
Moreover, the grip gives skateboarders more control while performing tricks. Thanks to this feature, helps me to control my walking speed to minimize injury.
The 5-inch robust aluminum trucks have a carbon steel shaft and are electroplated on the outside. Plus, the wheels have special WHOME chrome steel ABEC-9 bearings with high precision that enable skateboarders to roll smoothly at high speed.
A bonus of this skateboard is that all of the graphic options are really creative and eye-catching. The best part is that you can get a board with amazing features and graphics at a reasonable price. Although, prices vary depending on the graphics you choose.
Verdict: On the street, I choose WHOME for my trip because of its structural perfection, sustainability, and outstanding graphics. In addition, this version is also strong in terms of stability and reasonable price.
6. Rimable Complete 22-inch Skateboard – Best for Kids
View at Amazon || View at Getuscart
If you're looking for a complete board for a child, then we suggest you consider the Rimable Complete 22-inch Skateboard. This mini-cruiser designed for kids is just the right size for smaller kids who want to learn how to skate.
See also: 13+ Best Skateboards For Kids (Reviewd)
The 22-inch x 6-inch plastic deck is durable and relatively easy to clean. With children's personalities, it is understandable to make a skateboard dirty. This advantage helps me to clean my child's board quickly. The polyurethane wheels fitted into the 5-inch aluminum trucks allow the board to glide smoothly even at high speed.
Plus, this board is quite lightweight. Children can carry the board around with ease. Although only 10 years old, my baby is already able to bring this board for training plans. It was even able to self-preserve easily.
Don't think lightweight equates to a weak deck. This board's deck is quite sturdy and can hold up to 198 lbs, which means even an adult could take this board out for a spin.
The best part about this board is that it comes pre-assembled. This means you have to waste no time or effort trying to assemble this board.
Available in a variety of vibrant colors and designs which are appealing to kids. Moreover, what makes this board even more special is that it comes with a low price tag. This Rimable skateboard can be considered as the best cheap complete skateboard for kids.
Verdict: I decided to let my son pursue his passion for skateboarding when I found Rimable. This board is full-sized, sturdy, and graphically insightful, making it easy for the kids to play with.
7. POSITIV Team Complete Skateboard – Best for Premium Material
View at Amazon || View at Tgmskateboards
Next up on our list is the Positive Team Skateboard. The deck of POSITIV Team skateboards is constructed with maple or birch.
The company is also known for using its own materials for the construction of its skateboards. For instance, the multiple layers of wood in the deck of the board are fused together using the company's AirLam and waterproof glue.
POSITIV's MiniLogo bearings that are installed in the wheels allow you to speed along the streets. You can ride this board in the park or in the streets thanks to the 99A hardness and threaded surface of the wheels.
The base of the deck is coated with an SST slide, which ensures the slides don't wear and last a long time. Over time, I became aware of the unique quality of this board. It does not wear out. On the contrary, it retains its original operating efficiency.  Moreover, this board has a K12 concave shape and is 32-inch x 8inch in size. This structure made it easier for me to balance and move more stable. Therefore, improving skills will only be overnight.
Overall, this board provides you with a good grip and control, making it easy to maneuver. You can also find this board in three different options: Rodney Jones. Sandro Dias, and Teams.
On the downside, for a beginner board, this POSITIV is a bit pricey. If you can afford this board, it might be worth the investment.
Verdict: POSITIV's materials are what I've been looking for all along. It has a perfect hardness, durability over time, and especially absolute safety for your long trip.
8. Beleev Skateboards – Best for Lightness
View at Amazon || View at Walmart
If you're looking for a safe and durable skateboard for a child, we suggest you take a look at the Beleev Skateboard.
The deck is 10 mm in thickness, measuring up to 31-inches x 8-inches, and is made of 7-ply Canadian maple wood, making it quite sturdy. It is super hard, according to my objective assessment of my usage. The surface always ensures stability to keep my feet from sliding freely. And I am satisfied with this advantage of the product. Moreover, this children's board has a weight capacity of 220 lbs, meaning that it can withstand the weight of an adult.
While the deck is sturdy, it's also quite lightweight. The overall weight of the board is only 4.7 lbs, which means your child can easily carry the board if required.
Braking on this broad is also a simple task thanks to the double kick symmetric concave shape of the deck. In addition, the waterproof emery non-slip grip tapes provide great traction, making sure your feet stay firmly planted on the skateboard.
Besides, the grips can not be scratched off easily.
Plus, the 5-inch aluminum trucks are robust and safe for cruising, commuting, and performing tricks. The anti-slip 55 mm 95A polyurethane wheels have high rebounds and are shock-absorbing. This means that your child can easily ride this board in skate parks, streets, and sidewalks.
The graphics on the board are creative and colorful. The graphics are transferred onto the board using heat transfer printing, which means that they're bound to last long.
Verdict: I recommend Beleev to you because its lightness is perfect and useful for the process. It also offers an admirable wheel system and durable graphics to make your experience more meaningful.
9. Quest QT-NSC44C The Super Cruiser – Best for Design
View at Amazon || View at Longboardsusa
If you're a fan of good craftsmanship, then the Quest QT-NSC44C The Super Cruiser is sure to catch your eyes. A 44-inch artisan bamboo multi-ply hardwood maple deck comes with authentic components that provide the best skating experience.
Quest is a well-known pioneer in the skating world. It's famous for designing a hundred percent of its components in order to provide skaters with the best skating technology.
If you're on the lookout for a professional cruiser, then this Quest board is a great option. With authentic ABEC-7 bearings and 7-inch aluminum trucks, the longboard provides skaters with the speed they need to cruise along the streets. It's hard to give up on this board, as its precise speed control fascinates me.
This longboard is perfect for cruising along the streets or for commuting from place to place. Thanks to the shock-absorbing wheels, you'll be able to ride on this board smoothly. Additionally, the wheels are quite durable as well and will hold up against wear and tear.
Given Quest's unique style and construction, you're bound to stand out in any crowd with this board. If you've done some research on the best complete skateboards, Quest has probably shown up on your searches at least once.
Despite the remarkable features, this board is still available at a fairly affordable price.
Verdict: I'm pretty important to skateboard design because that's one of the best ways to get inspired. And that's why I chose Quest QT-NSC44C Super Cruiser. In addition to design, it also owns damping wheels and deep graphics to satisfy your usage requirements.
10. Merkapa 22-inch Complete Skateboard – Best for Versatility
View at Amazon || View at Merkapa
If you're looking for children's skateboards, the Merkapa 22-inch Complete Skateboard is one that might appeal to children. The key feature of this skateboard is the colorful LED light-up wheels.
The best part is that you don't need to worry about replacing or charging the LED wheels' batteries. The wheels are designed to light up as the board moves. As a person who likes to experiment, I am excited about the product's new features. Its ability to illuminate, although not much, is enough to satisfy my passion.
The 22-inch x 6-inch wide PP deck is quite durable. Indeed, I have been using it for 3 years without any deterioration in the texture or performance of the product. Plus, the edges of the board are smooth, so even if your child slips, the edges won't hurt them.
The 3.2-inch aluminum trucks are lightweight and have 60 mm x 45 mm 78A polyurethane wheels fitted onto them. Also, the wheels have ABEC-7 bearings, which allow for smooth riding and are shock-absorbing.
Adults and children can both enjoy a ride on this skateboard. It is also certified by the CE. However, keep in mind that the weight capacity of this board is 180 lbs.
Verdict: I like skates with flexibility because it helps me be more active for each of my uses. More specifically, it also comes with LED light wheels, making it easy to see the road when it is dark.
11. Gentle Monster Skateboards
View at Amazon || View at Kmart
Regardless of whether you're a beginner or a pro, the Gentle Monster Skateboard is great for skateboarders of all levels. It has a 31-inch x 8-inch full-size double kick concave deck, which gives you excellent control.
The 54 mm polyurethane high rebound wheels have ABEC-7 bearings. The wheels, bearings, and trucks combined allow skaters to move around smoothly, even at high speed. Whether you want to break, maneuver, or perform tricks, you'll have no trouble controlling this board. For a beginner like me, this is probably the most practical feature. It helps to satisfy me with the quick responses after a fall.
An added bonus of the wheels is that they light up in the dark.
This board has the sturdiest deck on our list. Made of 9 layers of maple wood, it provides your feet with a stable surface. This board can hold up to 220 lbs of weight.
The graphics on this board are printed through heat transfer, which makes them difficult to remove.
Verdict: I recommend Gentle Monster Skateboards because it's perfect for your trip. Solid board, attractive bright wheels, and flexible adaptability for many objects are the advantages you will receive when owning this super product.
12. Retrospec Quip Skateboard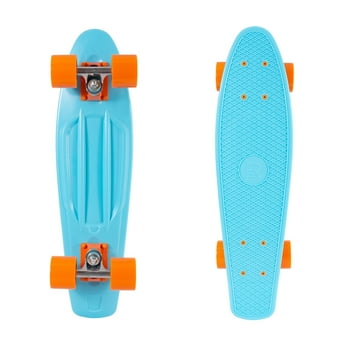 View at Amazon || View at Retrospec
The last skateboard on our list is the Retrospec Quip Skateboard. If you're looking for an old 70s-style retro board, then you'll love this 22.5-inch x 6-inch skateboard. This board may be small in size, but it's very durable, and the plastic is highly flexible.
Weighing less than 5 lbs, this skateboard is lightweight. You can easily carry it around and store it in your backpack, locker, or trunk. From the moment I bought it, I've been able to confidently bring to many areas to practice and show off my surfing skills.
The polyurethane cast wheels have ABEC-7 bearings that ensure your skateboarding experience is fast and smooth.
If you're picky with colors, you don't have to worry. You can find a wide range of bright color options available for this model. There's bound to be a color that fits your preferences.
Moreover, this amazing board is available at an affordable cost. It's a great option for people who prefer using skateboards to commute from place to place.
Verdict: I have known and used Retrospec Quip Skateboard for quite some time. In addition to its inherent smoothness, this board also offers long-term durability for you to take on many dream trips.
Buying Guide For The Best Complete Skateboards
Now that we've looked at some of the best complete skateboards let's look at some other things that should be taken into consideration when buying a complete skateboard.
Is it Worth Buying a Complete Skateboard: Pros and Cons
If you're new to the skating world, assembling your own board can seem like a daunting task. This is why most beginners opt for a complete board when first starting out.
The common issue that arises with a complete skateboard is the overall quality. The ones we've listed above are some of the best complete skateboard brands, so you need not worry about them. However, this isn't the case for all complete skateboards.
While you can get a strong deck for a lower price, everything else usually lacks quality; the bearings, trucks, and wheels.
The trucks are either from cheap or unknown brands and don't last long.
The polyurethane used to make the wheels is also low quality causing the wheels to wear out earlier than they should. Although high-quality wheels are double the price, the investment is worth it as these high-quality wheels tend to last four times longer.
Since the bearings are also cheap and of low quality, they get stuck and stop spinning.
If you're serious about going pro with skateboarding, we suggest against getting a complete skateboard. You could budget according to your preference to purchase high-quality parts to assemble your board.
However, if you've made up your mind on a complete board, here are some tips for commonly occurring issues:
Issue: Trucks are fitted too loosely or tightly.
Tip: You can simply loosen/tighten the bolt on the kingpin.
Issue: Wheels aren't moving or seem stuck.
Tip: Remove the bearings to check for damage. You can also use speed cream if required.
Should I Choose a Cruiser Complete or Regular Complete Skateboard?
This is a question that comes up quite often. Which option is better? A cruiser complete or a regular complete skateboard?
To answer this question, we need to look at three key features:
The Purpose of the Skateboard
Before you do anything, you need to ask yourself, why do you need a skateboard? Do you need the board to commute from place to place? Or do you need the board to perform tricks?
If you want to use your board to commute or cruise, a cruiser is a better option for you.
However, if you wish to perform tricks, a cruiser will be too stiff for your use. A regular board that is flexible, with good grip and control is better if you want to practice ollies, flips, and other advanced tricks.
Wheel Size
As you've noticed, regular skateboards have smaller and harder wheels. This is because these wheels are made for skate parks that have smoother and harder surfaces.
The wheels on a cruiser are slightly larger and softer in comparison to regular skateboards. This is so they can withstand rougher, bumpier surfaces like roads and payments.
Deck Shape
Deck shape is another important feature that differs between regular and cruiser skateboards. There are a variety of deck shapes available for both, each having its own purpose.
Usually, regular skateboards have a raised nose and tail. This helps skateboarders maneuver the board when performing tricks.
Skateboards: The Complete Buying Guide
Before you head to the store to purchase a skateboard, there are some features that you need to look into. You need to figure out your preference and priorities before you buy a skateboard.
A little research can be quite useful. Lucky you, we've put together this simple guide to skateboards.
Budget
The first and most important thing you should decide on is your budget. While a skateboard won't empty your wallet, it doesn't hurt to figure out your own requirements and set a budget accordingly.
You can get cheap skateboards for $50 and under. A standard skateboard might cost you around $200. Anything above will fall under the premium category.
The best way to figure out your budget is to think about why you're purchasing a board and what features are essential for you. Once you have these details down, you can set a budget for yourself.
Wheels
Your wheels are the most important part of your skateboard. Without your wheels, you're not going anywhere (literally). The wheels on your board are important when it comes to speed, control, and just how smooth your riding experience is.
There are two main things you can take into account:
Material
Usually, skateboard wheels are made of polyurethane or PU. The composition of the PU might vary depending on the type of wheels and their use.
You need to look at the durometer of the wheel. The durometer essentially determines how hard or soft the wheels are. Typically, you'll see that most skateboards have 99A as their durometer.
Anything higher will mean the wheels are harder. As mentioned earlier, harder wheels are better for performing tricks, while softer wheels are more suitable for cruising.
Size
Most wheel sizes lie between 50 mm and 75 mm diameters. Larger wheels allow you to skate at higher speeds, while smaller wheels have a slower speed.
If you want to practice tricks, you should opt for smaller wheels. However, if you just want to cruise around, larger wheels are the better option for you.
Deck
Next up is the deck. This is almost just as important as the wheels. The wrong deck can really have an impact on your skating experience.
Here are some features of the deck that you should look into:
Width
One would assume that skateboard length is more important but nope. You need to look at your deck width first. You will have a hard time controlling your board if the deck is too small or too big.
The ideal width for a board is between 7.5-inches and to 8.5-inches. Again, this depends on your skating style as well. So, you need to take that into consideration too.
Length
You'll mostly see skateboards between the length of 28-inches and 32-inches. Generally, the longer the board, the narrower it is and vice versa.
Wheelbase
The wheelbase is the length between the wheel mounting holes.
This may seem insignificant, but it has an impact on your overall skating experience. So be sure to check the wheelbase distance before you purchase a skateboard. Generally, wheelbase size range between 13-inches to 15-inches. Watch this video on Youtube to get more details on the skateboard wheelbase
Material
Skateboard decks are made of a variety of different materials:
Wood
Resin
Plastic
Aluminum
The material determines how strong and sturdy your deck is. Make sure you choose a high-quality deck. You don't want to pick a deck that's going to snap into two in a month or less.
Graphics
Now comes the fun part. Skateboard decks are available in a variety of different colors and graphics. Some people even use their skateboards to make fashion statements. You'll have various options, from vintage boards to graffiti art to simple yet vibrant colors.
Bearings
How smoothly your wheels run is dependent on the types of bearings they have. If you have low-quality bearings, your bearings might get stuck more often. Bearings are usually made of two types of materials; stainless steel and ceramic.
Steel bearings are not only affordable, but they're also durable. You just need to maintain and lubricate them regularly. On the other hand, ceramic wheels are expensive but don't require as much maintenance as they're not impacted by heat energy.
Skateboard bearings are available in the standard 608 sizes, with a width of 77 mm, a diameter of 22 mm, and a core measurement of 8 mm. So, there's one less thing you need to worry about.
Trucks
Your board's wheels are attached to your trucks, which is why your trucks need to be durable. One factor to take into account is the height of the trucks.
Lower trucks provide more stability and are better for smaller wheels. Higher trucks work for cruising and pair up well with larger wheels.
Again, keep your preferences in mind when looking at the different features.
Grip Tape
As the name suggests, grip tapes provide your feet with more grip and stability. They help keep your feet firmly on the board. Just make sure the grip tape you get is reliable and doesn't tear off easily.
Riser Pads
These sturdy plastic pads are present between the deck and your board's truck to provide some height. The purpose of these pads is to stop your wheels from hitting your deck when you perform tricks.
Hardware
The trucks and wheels don't magically attach themselves to the board. You'll need some hardware to fix all of the parts of your board together. We suggest you also purchase additional hardware. You never know when you might need a spare bolt.
Just in case anything slips from your mind, it's better to make a list beforehand of all the items you need. You can also include the quantity to make things easier for yourself.
Frequently Asked Question
What Is a Good Price for a Complete Skateboard?
On average, the price of a complete skateboard costs between 75 and 150 dollars. But, of course, it depends on the quality of the model you pick.
That is just the start because there are many costs involved that you might not have considered. For example, longboards cost more but are way less expensive in the long term.
 Where to Buy Complete Skateboards?
You can buy these skateboards at any reliable sporting goods store. However, it is best to double-check the model you chose. Besides, you can also find them on trusted e-commerce sites, such as Amazon. You also need to make sure your model comes with a good warranty.
How Much Does It Cost to Build a Complete Skateboard?
On average, it will cost you between 120 dollars and 150 dollars to build a professional skateboard. But, of course, you can also increase that price by choosing the highest quality parts on the market. For instance, some bearings are available for a few hundred dollars.
For your better understanding, here are the average base prices for quality parts:
Deck: Ranges from 40 to 80 dollars
Trucks: Ranges from 40 to 50 dollars
Wheels: Ranges from 20 to 35 dollars
Bearings: Ranges from 10 to 20 dollars
Grip Tape: Ranges from 7 to 10 dollars
Hardware: Ranges from 5 to10 dollars
Are Complete Skateboards Good?
Complete skateboards are perfect options for the inexperienced and the beginners.
These models are practical and give you a good base model to start from. For instance, the different components of your skateboard will wear out more quickly than others over time.
Trucks usually last longer than components like decks and wheels. These skateboards make sense since they are beginner models because they're a little cheaper.
Conclusion
In this post, we've gone over some of the best complete skateboards on the market. In addition, we also delved in deep to discuss which features are important to take into consideration when purchasing your own skateboard.
According to our research, the best complete skateboard is the Minority's 32-inch Maple Skateboard. This board provides skaters with a smooth-riding experience thanks to ABEC-9 precision bearings. Moreover, the deck is sturdy and offers skaters more control to maneuver their skateboards.
Via: Amazon.com
If you're looking for a board to perform tricks on, this is a great option. The eye-catching graphics are a bonus to this board.
We hope this post helps you find the perfect complete skateboard for your needs.