Top 12 Best Penny Boards For Beginners (2022 Update)
Although penny boards have their origin in Australia, they have become massively popular all over the world. The best penny boards offer a mix of stability, convenience, and durability, which makes them great, especially for kids and teenagers. After all, not all skateboards are created equal.
This post will help narrow down the choices from a huge pool of products on the market. Whether you're buying for yourself or thinking of gifting it to someone, you'll find all the information you need to make a great choice.
Penny boards are skateboards, but not all skateboards are penny boards. Therefore, you should also make the distinction between what actually qualifies as a penny board and what doesn't.
See also:
Top 12 Best Penny Boards in 2022
Below, we have some good penny boards for you:
1. Meketec 22-Inch Mini Cruiser Retro Skateboard – Best for Overall
View at Amazon || View at Walmart
Meketec is one of the best penny board brands today, offering a variety of sizes and colors.
The Meketec 22-Inch Mini Cruiser Retro Skateboard comes in a wide range of colors and designs. Its size, built, and retro aesthetic makes it ideal for kids.
The deck's width is six inches, which is good enough for a kid. But what really makes this skateboard the best is its construction with the high-speed ABEC 7 bearings and 3.25-inch trucks. The urethane wheels are 60 mm in diameter and have an aluminum base.
This is a plastic penny board, but the plastic is high-quality. Compared to the wooden boards I use, this super product is unique in providing flexibility and lightness. It makes your migration request easier.  The textured deck provides ample friction to keep the feet glued to it while cruising. This feature is the advantage I always prioritize looking for in my experiences. It helped me stabilize my legs, making it easier to control the board in the rain.
This Meketec penny board is CE-approved, which is a safety certification from the EU. In other words, it doesn't contain any harmful materials in its construction. It's great for use on the road too, so it's not just for fun but can be functional as well to commute to school or parks.
Another great thing about this particular model is that it's suitable for all types of riders. Whether your kid is experienced or not, they'll find this skateboard pretty easy to ride.
It's easy to carry in hands with a weight of just 3.2 pounds. Plus, it can withstand 200 pounds, which is good enough for a kid's skateboard.
Pros
High-quality, durable plastic deck
Great for learning balance and beginner tricks
Large wheels
CE-certified
Really cool design options
Bottom line: If you are looking for the perfect overall skateboard, then this Meketec version is not to be missed. By experiment, I have tested the durability, flexibility, and speed control of the product. Fortunately, all is well to help you have more meaningful experiences.
2. Playshion 22-Inch Mini Cruiser Skateboard – Best for Quiet Operation
View at Amazon || View at Playshion
The Playshion 22-Inch Mini Cruiser Skateboard is built for the road. Its deck contains fiberglass, which delivers a high weight capacity (220 pounds) and makes the deck itself lightweight.
The 22-inch length and 6-inch width make it ideal for kids over three years and up to early teenagers. I bought this board for my son to pursue his dream of becoming a professional surfer. From the first contact, she did not appear strange and was very interested in the product size.  It should be very easy to maneuver, thanks to the anti-bite wheel design. So your kid will be able to swerve right or left with minimal effort.
This is one of the quietest penny boards on the market with high-quality aluminum trucks (3.25 inches) and ABEC-9 bearings. It makes for a very smooth ride, which makes it ideal for beginners, in particular. I am completely convinced by this board's excellent performance on gravel. There wasn't any sound during the more than 6km I traveled.
The wheels are large, coming in at 45 x 59 mm, with 59 mm as their diameter and 45 mm as their thickness.
As for design, this Playshion skateboard boasts some of the coolest designs. The texture on the deck is also different from the typical diamond pattern. From aquatic blue to celestial purple, there are all sorts of colors and prints to excite the little rider.
Pros
Sturdy, lightweight fiberglass deck
ABEC-9 bearings with nylon ball cages
High 220-pound capacity
Very smooth ride
Great value for money
Bottom line: I appreciate the quietness of this skateboard on all different surfaces. Even the rough gravel roads do not affect the product quality. Compared to the cost, I recommend this board because it is perfect for the requirement of durability, smoothness, and rigidity.
3. Cal 7 22-Inch Mini Cruiser Skateboard – Best for Design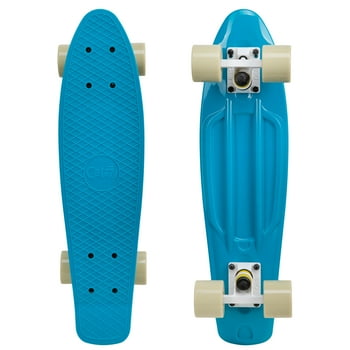 View at Amazon || View at Walmart
The Cal 7 22-Inch Mini Cruiser Skateboard is one of the coolest penny boards with its vintage vibe and playful color choices. This one is good for kids and teenagers alike. It's actually slightly bigger at 22.5 inches in length and 6 inches at its widest.
The highlight of this skateboard is its effortless design paired with some really vibrant colors. Some of them are solid colors, while others boast creative graphics like the fun donut print or the cartoony Poseidon print inspired by the ocean.
All the components of this Cal 7 mini cruiser skateboard are top quality. It uses ABEC 7 bearings and 3.25-inch aluminum alloy trucks. The PU 78A wheels are 60 mm, as is typical in most 22-inch penny boards.
The deck is plastic, which means it's extremely lightweight but durable. Based on personal experience, I appreciate the durability and rigidity of this exclusive plastic material. However, tripping often does not affect the quality of the skateboard. It will easily fit into a backpack, so it can be carried to school or the park. This board is super light and can help me take it with me easily. Or even when preserved, it also performs faster than other products.
Pros
Shock-absorbing wheels
Lightweight plastic deck
Smooth ride
Colors and prints don't fade
Bottom line: Do you prefer a complete design? I am highly interested in the Cal 7 22-Inch Mini Cruiser Skateboard model, and it helps to increase the inspiration when exercising, so it is doubled. When owning this product, you will have the opportunity to experience the smooth wheel system with various color versions.
4. Retrospec Quip 22.5-Inch Skateboard – Best for Soft Wheels
View at Amazon || View at Retrospec
The Retrospec Quip Skateboard retro-style cruiser that's specially designed to provide seamless gliding. The large urethane wheels are not just durable but also pretty soft, so they make the penny board great for cruising. These wheels easily absorb all the shocks from the bumps, so you can even skate on bumpy roads with them.
This 70s-inspired skateboard has an injection-molded plastic deck that's super lightweight. The whole thing weighs under four pounds. You can carry it in your hands or put it in a backpack without straining your back. Since buying this board, I no longer have back pain when wearing the board like in previous products. The board size is also manageable for me to put in my travel bag for more convenient carrying.
It comes fully assembled, so you can start skating right out of the box. For a busy person like me, this is a significant advantage to save time to adventure with your favorite game. However, you can always make adjustments later on.
The bearings in the wheels are ABEC 7 carbon bearings, which are long-lasting and durable, if not the quietest. Furthermore, it features 5-inch trucks, which improve control. It should be easy to turn and swerve, so pros would like this one too.
The design options pretty much include solid colors only, but you'll be surprised to see just how many options there are.
Pros
Extremely lightweight
Large trucks
Good shock absorption
Retro look
Lots of color options
Cons
Wheels are not that quiet
Bottom line: A board with soft wheels is needed to make your ride smoother, more peaceful, and safer. After more than 6 months of research, the Retrospec Quip 22.5-Inch Skateboard is the first version to get all the pluses from me because of its exclusive super-smooth wheel. And it deserves your top investment.
5. RIMABLE 22-Inch Skateboard – Lightweight Penny Board – Best for Lightness
Via: Amazon.com
The RIMABLE 22-Inch Skateboard is the best budget penny board on this list. With a max weight capacity of 198 pounds or 90 kgs, the deck of this skateboard is quite sturdy. It's a plastic deck, so it's not heavy itself.
It has 3-inch aluminum trucks and 60 mm polyurethane wheels that you find in almost every penny board of this size. The bearings make the wheels a tad bit quiet but not completely noiseless. This board is not smooth on gravel, according to my objective assessment. With surfaces with slight convexity, it can still maintain stability and ensure the driver's safety.
This one is the best penny board for beginners who are trying to learn to ride a skateboard, so say, kids aged 5 to 10 perhaps. Although older kids and teenagers can ride it easily too, it's best for kids just trying to have some fun with skateboarding.
See also: Top 11 Best Skateboards For Beginners in 2022
Since it's lightweight and easy to control, it's easier for kids to practice on before moving on to something bigger or fancier. This is why its price is perhaps its highlight. It's pretty affordable, offering great value for money. Being a low-income worker, I could also own this product easily. It's perfect for the current cost.
The color and design options are pretty decent as well, with both vibrant solids and fun graphics.
Pros
Best penny board for beginners
Incredibly lightweight (under 3 pounds)
High-speed bearings
Affordable price
Decent weight capacity
Bottom line: RIMABLE 22-Inch Skateboard is unbelievably light and durable, it helps me to have more engaging and enjoyable experiences. This board's maximum capacity is also perfect for simultaneous two-player play.
6. Skatro 22-Inch Mini Cruiser Skateboard – Best for Balance
View at Amazon || View at Skatroboards
The Skatro 22-Inch Mini Cruiser Skateboard comes with a matching T-tool at no additional cost.
This 22 x 6 inches plastic deck is made using Skatro Flex technology, which basically ensures that every deck has the right flex and strength. The table size is essential, making it easy for a novice like me to do simple navigation operations. It is also exclusive for the flexibility to conveniently perform professional multi-phase rotation.
That balance is the key to being sturdy without being heavy, which this skateboard masters seamlessly. It's a proprietary manufacturing process that helps maintain consistency.
It has 3-inch wide aluminum trucks and ABEC 7 stainless steel bearings. So in terms of speed, it's a pretty decent cruising penny board. The 59 mm diameter wheels are made of polyurethane (78 A).
If you're buying for someone who loves to speed up a bit on their skateboard, this would be perfect. It delivers good speed, thanks to what is called bearing steel. This bearing steel, unlike ordinary carbon steel, is harder and apparently produces less friction.
This may also result in longer life and less wear and tear on the bearings, which are typically the first to go bad in a skateboard.
The top of the deck has a standard waffle pattern for a strong grip. Young kids and teenagers both can ride this skateboard and carry it around in their arms or in a backpack. It weighs 4.7 pounds, which is slightly heavier than some of the other comparable models.
Pros
Skatro Flex technology
Bearing steel ABEC 7 bearings
High-quality construction
Strong and convenient hand grip
T-tool
Bottom line: Looking for balance? Yes, the Skatro 22-Inch Mini Cruiser Skateboard is the best choice. I admire its excellent stability and balance and hope you can invest in the product for more fun rides.
7. DINBIN 22-Inch Mini Cruiser Skateboard – Best for Low Budget
Via: Amazon.com
The DINIBIN 22-Inch Mini Cruiser Skateboard is one of the good cheap penny boards that both beginners and experienced riders can enjoy alike.
The 22 x 6 inches propylene deck is lightweight and sturdy, able to withstand up to 220 pounds. Therefore, even an adult can get on this skateboard. For families with small children like me, it is possible to use it for two people at the same time to move. The maximum load of this board is relatively large and can accommodate two adults traveling simultaneously.
You have 85A soft bushings paired with 78A PU wheels that are 60 x 45 mm in size. Its ride is pretty smooth, given that it has decent-quality components. It features aluminum trucks measuring 3.125 inches.
The color choices are plenty, too, with both solids and some really fun graphic stickers for the deck. The quality of the graphics and colors also seems good. So it will likely easily withstand all of that beating it will get from cruising on roads and sidewalks.
Some of the fun graphics on this model include cartoon/comic, starry sky, tricolor, and the universe.
Most importantly, this one has CE certification as well, which ensures safety. There are no harmful materials in the composition of this skateboard. This makes it a bit more credible, as DINBIN isn't one of the popular brands in the world of skateboards.
This comes fully assembled, so your kid can ride right out the box. For this reason, it can also make a good present.
Pros
Good value for money
CE certified
Fun design and color options
60-days guarantee
High weight capacity
Cons
Wheels may need adjustment
Bottom line: Cost is always the most critical factor when considering a skateboard for me. And the DINBIN 22-Inch Mini Cruiser Skateboard is my recommendation for you, with a fantastic price tag and a variety of important, practical features. By buying this board, you will have an additional 60-day long-term warranty.
8. Ridge Mini Cruiser Skateboard – Best for Professionals
Via: Amazon.com
The Ridge Mini Cruiser Skateboard comes from the UK-based Ridge Skateboards that are really popular in Europe but are relatively new in the US. However, if this particular model is anything to go by, they have the potential to give good penny board brands a run for their money.
This one is a 27-inch deck skateboard, and its width is 7.5 inches. It's big enough for adults to ride.
While most skateboards today are manufactured in China, this one isn't. That's not to say those manufactured in China are always bad, but some of those can be of poor quality. However, this is a premium-quality product with high-quality materials.
With 59 mm PU wheels, it delivers a highly smooth ride. It has the same wheels as the original 22-Inch Ridge Mini Cruiser. I created a mock terrain with moderately sized rocks to test the wheels' smoothness. Great, it's better than I thought when the wheels go through rocks quickly without vibrating your posture or stability.
Even though it's bigger, it has a comparable weight, coming in at 3.5 pounds.
The bearings on this are high-speed ABEC 7, while the trucks are 4-inch wide. They have 87A super soft bushings. All of these components come together to give a highly smooth ride, even at high speeds and on bumpy surfaces.
In terms of looks, it's relatively simpler. While other brands put out a lot of colors, this company has also included an all-black variant that has a very sophisticated look.
Pros
Large deck
Manufactured in the UK
Lightweight
High-quality stainless steel bearings
Great for pros
Bottom line: After leveling up, I chose Ridge Mini Cruiser Skateboard to do the pro trick. Unexpectedly, because it can do well what I expected. For me, this super product is also perfect in terms of texture, stability, and weight, and it's the best for your choice.
9. MoBoard 27-Inch Vintage Penny Skateboard – Best for Heavy Loads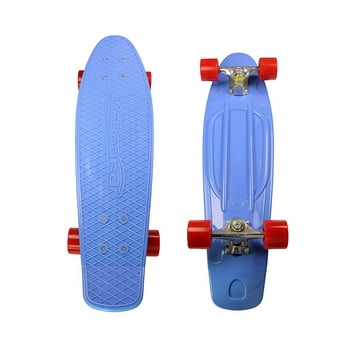 View at Amazon || View at Walmart
The MoBaord 27-Inch Vintage Skateboard comes in a huge variety of colors and designs. There are over 20 different options to choose from.
It may have a vintage vibe, but the parts are contemporary. With ABEC 7 bearings, it delivers good performance at high speeds as well. The 3-inch aluminum trucks and 59 mm PU wheels come together to deliver a shock-absorbing ride.
Although it's 27 inches in length, the overall surface area is relatively smaller. In fact, its too small table caused me a bit of a problem when I changed positions. For starters, it may not be a perfect choice. So it's easy to pack and carry, especially if you primarily want to use it for commuting.
More importantly, this model also offers a bit of personalization. The wheels are interchangeable, so you can shake things a bit from time to time. However, these extra wheels and the T-tool aren't necessarily included with the skateboard.
The weight limit is also more than enough at 220 pounds or 100 kgs. Plus, it's nearly 10 inches wide. Older kids, teenagers, and adults all can ace skateboarding with this penny board.
The plastic deck has imprinted grips that provide ample friction for your feet. Moreover, the price of the board is pretty reasonable relative to the qualities it offers.
Pros
Large penny deck
High-speed bearings
Interchangeable wheels
Decent weight capacity
Great value for money
Cons
Extra wheels and tool isn't supplied with the skateboard
Bottom line: If you have a large body like me and still want to experience skateboarding, invest heavily in MoBoard 27-Inch Vintage Penny Skateboard with an admirable maximum load. Moreover, it also has a great price to make it easier for users to access.
10. SK8MEMO Mini Skateboard – Cheap Penny Board – Best for User-friendly
View at Amazon || View at Walmart
The SK8MEMO Mini Skateboard is another cheap option for really young kids. It's even smaller than traditional penny boards; however, its plastic deck sort of qualifies it as a penny board. The deck is 17-inch in length and 5-inch in width.
This one features a one-screw release system for the trucks, which are iron trucks wrapped with propylene.
It's ideal for three to seven years olds, as they are learning to skateboard. You have a few color options, including an all-black skateboard with blue wheels.
SK8MEMO claims that it inspects and tests each product, so that's reassuring, as young children will be riding them. They comply with all the safety regulations to ensure there is no risk of accidents.
The maximum weight capacity of this skateboard is according to the proposed users. It's only 100 pounds, but that's enough for kids five to seven years old. I am pretty regretful about this load because it cannot give my baby and me the right trip. This is for playing around and practicing, so it's built that way too.
Pros
Extremely lightweight
Ideal for small kids to learn skateboarding
Tested for quality
Bendable propylene deck
Iron trucks
Bottom line: The friendliness of the SK8MEMO Mini Skateboard made me fall in love. It was completely different from the products I had used before. Possessing a unique design, high-quality, and sturdy materials, children, adults, or beginners can start with this board on the go.
11. Ohderii 22-Inch Mini Cruiser Skateboard
Via: Amazon.com
The Odherii 22-Inch Cruiser Skateboard is truly great value for money. At a very reasonable price, it uses materials comparable with some of the higher-priced models on this list.
It's great for kids learning to cruise on skateboards. The deck is 5.5-inch wide, which is slightly more than what most 22-inch skateboards offer. That, paired with the high-impact injection-molded plastic, makes it a durable skateboard.
With aluminum trucks, soft bushings, and ABEC 7 bearings, it delivers a nice riding experience. As for the wheels, they are 85A urethane and 59 mm in diameter. This table is relatively quiet according to my objective assessment. It has helped me navigate smoothly on rocky surfaces and the most challenging roads.
This is yet another CE-certified skateboard, which makes it a safer option than those that are perhaps not certified.
Even with somewhat heavy-duty built, the skateboard only backs 3.5 pounds in weight. On the other hand, the max weight capacity is a whopping 220 pounds. It shouldn't break even if an adult rides it, so long as they lie within the weight limit.
The size and weight also make it ideal for carrying to school and parks. Kids can easily hold it or put it in their skateboard backpacks.
Pros
Tough construction
Lightweight propylene deck
Wider size
Very lightweight and portable
Bottom line: Lightweight and portable construction are what I feel from this entire board. Its cost is also relatively cheap, so all users can easily own it.
12. Retrospec Ten Toes Quip 22.5-Inch Complete Skateboard
View at Amazon || View at Retrospec
The Retrospec Ten Toes Quip Complete Skateboard is 22.5-inch long and 6-inch wide. This retro 70's style skateboard is made from ultra-flexible plastic. As a result, it weighs less than four pounds, even though it's a little bigger than traditional 22-inch penny boards.
This Retrospec skateboard features ABEC 7 carbon steel bearings that are high-quality. They are very precise, lightweight, and do not make as much sound. It also has five-inch wide trucks to go with the plastic deck, which provides much better control. I have tested this feature on various subjects to give the most accurate results for speed control. Even for inexperienced people, adjusting the desired speed to be safer is easy.
The polyurethane cast wheels on this penny board are supposedly quite durable. Retrospec is a reliable name when it comes to skateboards, so their skateboard parts are expectedly high-quality.
The Ten Toes Quip is a complete skateboard, so it comes fully assembled. You don't have to assemble it or make any kind of adjustment. It's the right penny board for kids, teenagers, and adults all who just want to ride and cruise on a quality penny board.
Pros
Lightweight and flexible plastic deck
Carbon steel ABEC 7 bearings
New five-inch trucks
High-quality wheels
Minimalistic design
Bottom line: I have always wished I could own a board with high-quality wheels. Luckily I found the Retrospec Ten Toes Quip 22.5-Inch. Using it has helped me limit injuries and have more exciting and fierce races.
What is a Penny Board
A penny board is a small plastic skateboard. The term can be confusing as Penny Skateboards is a company based in Australia that produced these plastic skateboards.
However, the term went on to become popular for all plastic penny boards, and not just those produced by the Australian company.
Penny boards are typically 22 and 27 inches. However, there's a bigger size as well, of 36 inches. Those are called penny longboards, which have become a different category in their own right.
The Best Penny Boards For Beginners – Ultimate Buying Guide
Before you look for good penny boards, you should understand some of the distinctions, as penny skateboards can easily be confused with penny longboards or even mini cruiser skateboards. Then you have some other important things to consider, such as price and styles.
Bottom line: I have always wished I could own a board with high-quality wheels. Luckily I found the Retrospec Ten Toes Quip 22.5-Inch. Using it has helped me limit injuries and have more exciting and fierce races.
Penny Longboard & Penny Skateboard
By the primary definition of penny boards, that is the plastic deck, both penny skateboards, and penny longboards are the same. However, as the name indicates, penny longboards are bigger.
While penny boards are between 22 and 27 inches, penny longboards can be as big as 36 inches. Of course, the width is higher than penny boards too.
While they are both plastics, the bigger size also has an effect on their performance, use, and price.
Penny boards are generally targeted toward kids and teenagers who are most comfortable riding on small skateboards. That said, adults, especially pro skateboarders, can easily skate on these penny skateboards as well.
On the other hand, penny longboards are more suitable for people with a bigger frame, i.e., taller and heavier. These skateboards have a bigger surface area to accommodate bigger feet. They also have more weight capacity, so someone, say heavier than 200 pounds, can use these instead of penny boards.
While similar in a lot of ways, when it comes to deciding between a penny board and a penny longboard, your size, weight, and level of comfort determine the choice.
Penny Skateboard & Mini Cruiser
The most important distinction to learn here is that between a penny board and a mini-cruiser, which isn't that prominent.
Penny boards and mini cruisers are very similar. In fact, many penny skateboards are sold as mini cruiser skateboards, simply because the term is more common.
Both penny boards and mini cruisers are small skateboards that are designed for riding and cruising and not necessarily optimized for performing tricks. However, there are a few small differences, as there are similarities.
Penny skateboards are almost all exclusively made of plastic, but there are maple mini cruisers. However, the most apparent difference is that of wheels. Mini cruisers may have smaller wheels, whereas penny boards typically have bigger wheels, 59-60 mm in diameter.
See also: 6 Best Skateboards Under 50 Dollars
Price of the penny skateboard
Penny boards are essentially affordable small skateboards. In other words, this kind of skateboard is not too expensive. Nevertheless, price is an important consideration, as the prices vary greatly these days.
Even within the so-called affordable price range of the skateboards, there are ample choices. You can find premium-quality penny skateboards that cost over a hundred dollars. Then, you can also find those under 40 bucks.
As far as price goes, you should buy according to your needs. Penny boards are entry-level skateboards, which kids use to practice and learn how to ride them. So it may not make so much sense to buy something expensive.
However, if the kid or even adult is not a beginner, they may go for something high-quality that also costs more.
Styles & Colors
Let's be honest, the reason why skateboards are so popular, especially among kids, is because they are simply too cool. The different styles and colors over the decades have increased their popularity.
For kids especially, it all comes down to colors and style, so that will also play an important role.
Penny boards come in a wide range of colors, prints, and designs. So the choices are endless, even in the most conservative-looking skateboards.
This is merely a personal preference, so you should get whatever color or theme appeals to you. If you're buying for someone else, you may want to get a solid one in their favorite color or some theme print that they feel excited about.
Why should you choose a Penny skateboard?
Penny boards are lightweight and easy to control, which makes them great for kids, teenagers, and even adults. These are especially great for beginners who need these qualities in a skateboard to master this sport.
Penny skateboards are great for simply riding and cruising, which makes them great for commuting too. Moreover, their light weight makes them highly portable as well. You can easily carry them in hand or in any sizable backpack.
FAQ
Why should beginner use Penny Board?
Penny boards can be seen as entry-level skateboards as they are primarily designed for cruising. They are lightweight and portable and typically have soft wheels, all of which makes them ideal for beginners, especially kids. The small size and their construction make it easy to maneuver and control them.
The best penny boards for beginners are typically 22 inches in length, making them great for kids as well as adults. And it doesn't hurt that most penny boards are on the affordable side of the price spectrum.
Can Penny Skateboards resist water?
As penny boards have a plastic deck, these skateboards are by default waterproof. Unlike wood decks, plastic decks don't get damaged by water. Even other components like trucks and wheels are waterproof to some extent.
This is one of the many qualities of penny boards that they can be used even in wet conditions.
Can kids use Penny Boards?
You'll see that most penny boards are targeted toward kids and teenagers. That's because penny boards, by their very description, are small, 22 or 27 inches in size. The small size paired with the lighter weight makes them ideal for kids.
In comparison with wooden skateboards, plastic skateboards are much better to learn to skate for kids.
But even within the penny boards, there are variations. Some may be more suitable for kids, depending on their actual surface area and components.
See also: 13+ Best Skateboard For Toddlers Of 2022
Is there any Penny Longboard available in the market?
Yes, longboards in penny boards are generally called penny longboards, and they are bigger than 27 inches.
Is Plastic Deck slippery?
The plastic decks of penny boards have the traditional waffle/honeycomb grip pattern that offers enough grip for your shoe or foot. The exact pattern may vary by different penny boards, but all of them have it as standard.
Is it OK to ride my Penny Board under the rain?
Yes, penny boards can be used in the rain as the deck and components of the penny board are waterproof. However, it's important to take precautions and wear safety gear if you have it.
Are Penny Board wheels replaceable?
It's easy to replace the wheels on a penny board as long as the new wheels are compatible with the penny board. It's best to use the wheels from the same brand or manufacturer when replacing the old ones.
Some models may also include replaceable wheels by default.
Conclusion
Now that you know what your options are when it comes to the best penny boards, you can choose any that fits your needs and budget. If there's one penny board that qualifies as the best penny board, it's the Meketech 22-Inch Penny Skateboard.
Via: Amazon.com
It checks all the boxes of what makes a quality penny board. It has a reliable and durable construction paired with good performance. Plus, it's CE certified, which not many penny board models have.