Top 6 Best Skateboards Under 50 Dollars (Reviewed 2022)
Imagine the thrilling feeling of riding on sea waves but not actually surfing. Imagine experiencing calm and serenity while you maneuver against the wind on the streets with wheels rolling below your feet.
Yes, you can experience all the above said with just one good sport- skateboarding. To add to that, Skateboarding also helps combat mental health issues. Did you know that?
Skateboarding is a thrilling sport invented by surfers who missed the excitement of being on waves. Experts regard it as one of the most exhilarating sports, which gives you both the options- either just cruise casually or practice advanced ollies and tricks.
However, if you are beginning to learn skateboarding and are reluctant to spend vast sums of dollars on a new skateboard, we are here to help you out.
There are many options available in the market which you can purchase within a budget. If you want to buy the best skateboard under 50, read along with this article for reviews on the top six complete skateboards under 50 dollars.
See also:
Top 6 Best Skateboards Under 50 Dollars in 2022
Let's have a look at the best skateboard options available under 50 dollars that will give you value for each penny spent.
1. Krown Rookie Complete Skateboard: A Low-priced Complete Skateboard
View at Amazon || View at Tgmskateboards
The Krown Rookie Complete Skateboard offers both value and versatility for those who are looking for a fast yet cheap ride on a skateboard.
You can choose from a wide variety of cool graphic designs that will suit your needs. Constructed out of Canadian Maple wood, the deck is comfortable and will provide you with a stable ride as you maneuver around the city and perform stunts.
Its deck's dimensions are 7.5 by 31 inches, and manufacturers design them in a way that they can accommodate riders weighing up to 250 pounds with ease.
The ability to bear such an extensive weight makes this skateboard ideal for children who are gaining weight in their teenage years.
With a wheel size of 5.2 centimeters, this skateboard is optimal for a speedy, noiseless ride. The trucks are made of aluminum, 5 inches thick that is firmly attached to the frame.
Due to its smaller wheel size, riders who are just beginning to learn skateboarding might be overwhelmed by its high speed. This makes this skateboard an unfeasible option for beginners and slow riders.
However, Krown Rookie can offer more experienced riders a comfortable and fast ride. This board comes with risers on both sides; hence it is bidirectional, which means that it can be steered both forward and backward.
The coarse, thick, black tape is not merely an adhesive but provides a robust grip to the riders. This board comes in six different graphic designs and offers long-term durability.
Pros
Fast and smooth
Available in six cool graphic designs
Can bear an extensive weight, up to 250 lbs
Ideal for experienced riders
Provides value for money
Cons
Trucks might be adjusted for movement.
2. KPC Pro Skateboard Complete – Best for Large Size
View at Amazon || View at Walmart
If you are looking for complete skateboards under $50, another best option for you would be the KPC Pro manufactured by Krown as part of the KPC Pro series.
You can choose from 12 different designs, including checkered, multi-colored, and character-themed skateboards.
The Krown KPC Pro Skateboard Complete measures 32 by 8 inches, which is the ideal width for professional skateboarders. With a broader and stronger deck size than rookies, this skateboard is perfect for those who are planning to upgrade from a beginner's board to a more professional model.
This board can sustain a weight of 200 pounds despite itself weighing only 5 pounds. The board features a modern concave, which allows for comfort and ensures greater stability and fewer chances of accidents.
This Krown model incorporates heavy-duty aluminum, 5 inches trucks, and ABEC 7 bearings that provide precision speed. These bearings enable a smooth and noise-free ride.
This model has 52 mm, high-rebound urethane wheels, made up of hard plastic that will not abrade even if you frequently ride on rough gravel and stone.
If you are a pro, then you can fly 20 meters above the ground and safely land without inflicting any damage to the board.
It is equipped with an anti-slip covering and a thick black grip tape that provides the rider with powerful support on the deck.
KPC Pro board is a common choice for both beginners and professional skateboarders.
Pros
A wide deck size that is according to professional standards
Heavy-duty Aluminum 5.0 trucks
Precision speed ABEC 7 bearings
80 grit black grip tape
Anti-slip covering
Cons
Brushings might have to be loosened for speed
3. RIMABLE Complete 22 Inches Skateboard: Skateboard Under $50 for Children
Via: Amazon.com
Manufactured by the company Rimable, this skateboard is a suitable option for children who have just developed an interest in skateboarding.
The RIMABLE Complete 22 Inches Skateboard has a wide 22-inch deck constructed out of durable and lightweight plastic, which makes this board easy to carry.
With a wide 5.9-centimeters wheel design that protrudes out of the deck, this skateboard offers stability and endurance, particularly for rookies who are learning to balance on the board.
It has a low-lying design, and thus, this board only rises 5.9 centimeters above the ground.
For a smooth, stable, and noise-free ride, this board is equipped with ABEC 7 bearings made from stainless steel.
With a load capacity of 200 pounds, this board is suitable for both adults and children.
Equipped with a kick-tail, the skateboard offers riders a chance to practice stunts, and ollies and make sharp turns without tripping. This board comes in a collection of designs and colors.
If you are a parent searching for a skateboard for your child, you must first ensure that your child follows the safety measures while skateboarding and takes precautionary steps before starting his/her ride.
Pros
Best suited for beginners due to its wide deck
Protruding wheels provide additional support
Portable due to its lightweight
Cons
The brushings might be a little stiff
4. YF YOUFU Complete Skateboard – Best for High-quality Wheels
Via: Amazon.com
With just under 40 dollars, you can buy a suitable professional skateboard suitable for both adults and children.
The YF Youfu Complete Skateboard is equipped with the most upgraded technology that puts this board a notch higher compared to its contemporaries within the same price range.
Its deck size is 31 inches, which makes it suitable for all skater levels. Unlike other competing models, this skateboard is designed with ABEC-9 precision bearing, anti-shock polyurethane wheels, and super soft bushings to deliver a very steady ride.
The board's antishock polyurethane wheels make it suitable for all kinds of surfaces, including stone and gravel.
The symmetrical, double-kicktail deck makes this the perfect board for all skaters and provides better control and a comfortable break option.
Assorted with a non-slip deck, fashioned out of Canadian maple wood, with a high-density, waterproof diamond emery paper, this board provides the rider with strong support while he/she performs tricks and flips.
See also: Best Skateboard For Tricks
This skateboard can easily sustain weight up to 398 pounds or 180 kgs which makes this board a better option compared to the competing models.
It comes in seven distinct graphic designs.
Pros
Seven distinct graphics
Affordable as compared to other models.
Sustains more weight than competing models
Provides great value for money
Cons
A little heavy and hence not easy to carry.
It may require bearing adjustments for a smoother ride.
5. Cal 7 Complete Standard Skateboard – Best for Sustainability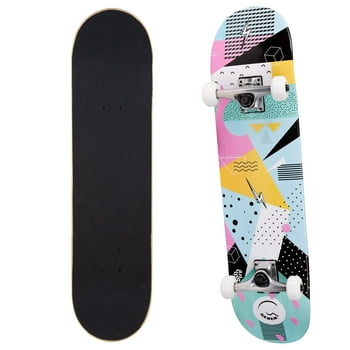 View at Amazon || View at Cal-7
The Cal 7 Complete Standard Skateboard offers a comprehensive range with deck length options ranging from 7.5 inch Mammoth designed board to 8-inch Dynasty themed board.
See also: Are Cal 7 Skateboards Good?
Deck size is 22 inches only, which is therefore not suitable for riders with more than average height.
The deck is fashioned out of 7-ply maple wood, which offers durability and anti-breakage.
With a strong adhesive grip tape, this board provides a robust grip, prevents slippage, and allows riders to perform stunts rising at least 20 meters above the ground.
This board is suitable for both professional stunts and beginners who are just learning to balance while skating.
The wheels are made out of polyurethane plastic and are at least 5.2 centimeters. The wheels are slightly softer as compared to other competitive models and therefore offer a stable and steady ride even on rough surfaces such as stone and gravel.
This skateboard model comes in a variety of styles and designs that both children and adults would love to purchase.
Pros
An assortment of designs available in this brand
The deck is constructed out of plywood, unlike competitive brands
Aluminum trucks with riser pads
Best for stunts; can withstand falls
HR95A brushings
Cons
Single-sided kicktail.
Not symmetrical.
6. Penny Complete Skateboard – Ideal For Beginners
View at Amazon || View at Pennyskateboards
Penny offers only a limited set of complete skateboards under 50 dollars. However, this brand offers durability as well as efficiency within 50 bucks.
See also: Top 12 Best Penny Skateboard Reviews 2022
Its deck is only 22 inches long, making this ideal for children who are excited about skateboarding.
The Penny Complete Skateboard will meet all your expectations and will offer the promised specifications.
Molded out of custom plastic injection, this skateboard is a durable and long-lasting option.
It is equipped with a kicktail for extra control and precision braking.
However, the Penny brand offers limited colors and designs. So if you are not concerned much about the design, this board is the best option for this price point.
Pros
Precision braking
Ideal for beginners
Aluminum trucks with riser pads
Kicktail for extra control
Plastic makes this a durable skateboard
Cons
Limited colors and designs
Only one size is available
What to Look for in a Cheap Skateboard under $50?
Customers have to understand that a typical skateboard is not cheap. Obviously, with the materials required for constructing one skateboard, ranging from expensive wood, metal bearings, adhesive tape, and plastic, a skateboard is not a mediocre sporting item.
Nonetheless, it is essential for potential buyers to ensure whether the skateboard they desire to purchase fulfills their requirements or not.
When buying, you must look for a skateboard brand that is cheap and hyped about.
At times brands use an extensive marketing strategy and fail to offer a durable board.
Hence, even buying a skateboard that is suitable for beginners or children is often a daunting task, especially if you are looking for skateboards under 50 dollars.
Potential buyers must ensure that the following specifications of a skateboard are of satisfactory quality in order to avoid a below-par purchase that eventually becomes a waste of your hard-earned money.
Wheels
While most companies avoid mentioning the wheel size, it is essential that you inquire about the size before purchasing. The ideal wheel size should be wide, approximately 5.8 to 6 inches, for a smooth and steady ride.
Deck
Most cheap decks are unfortunately constructed out of a full stack of ply or wood. This process is relatively inexpensive, and therefore, many skateboards lack a 'concave.'
A concave is vital for precision braking and steering the skateboard both forward and backward. Poorly branded decks are fashioned without a concave or kick and therefore save money.
However, customers must avoid buying such decks as they offer an unsatisfactory skateboarding experience.
Trucks
Ensure that the brand explicitly mentions the truck size and dimensions of a skateboard. An ideal truck is 5 inches and constructed out of aluminum for more extended durability and strength.
Grip Tape
Grip tape is particularly important for those people who intend to practice stunts and flips on a skateboard. A robust adhesive grip tape prevents tripping and falling while performing tricks. Hence, you should ensure that strong grip tapes are fixed to the skateboard's deck.
Bearings
Most skateboards offer an ABEC bearing system. It is crucial that customers must ensure that bearings are of at least ABEC 7 or ABEC 9.
Suppose you are unsatisfied with the bearings provided by brands that offer skateboards under 50 dollars; in that case, you can always buy a separate set of bearings for $10 and incorporate them into your skateboard for a better experience.
Final Thoughts on Best Skateboard Under 50
For an enthralling skateboarding experience, you can choose any skateboard from the article above. It is important to understand that some skateboards are only suitable for amateur learners, whilst others are perfect for professional skateboarders.
Many people may also prefer skateboard decks with longer widths; hence, a 22-inch board would be an inappropriate choice. For children, however, 22-inch decks are perfectly suitable.
Ensure that you keep the pros and cons of each brand in mind before making a purchase. We wish you a suave and effortless skateboarding experience, just under 50 dollars!
Related post: Best Skateboard Under 100 Dollars