Toy Machine Skateboards Review: Is it a Good Option?
Finding the perfect skateboard can be a hassle, especially given the variety of models and brands in the market.
It helps to do a little research before you decide to purchase a skateboard. A good way of assessing a skateboard's quality is by looking into the company that manufactures it.
Among the many skateboard brands, Toy Machine is one company that is well-known in the skating industry.
But what type of skateboards do they manufacture? Are Toy Machine decks good? Do they have good quality wheels?
In this Toy Machine Skateboards review, we'll be answering all these questions. We'll start by assessing specific components of their boards. Then we'll review some of their top skateboard models.
Once you're done with this post, you'll get a better picture of the type of skateboards Toy Machine produces.
What are Toy Machine Skateboards?
Established in 1993, Toy Machine Skateboards has always been a well-known company within the skating industry. Their years of experience give them an upper hand over newer companies.
They've been in the market for so long that they know precisely what skaters need. American professional skater Ed Templeton designed the initial designs of their decks. They've kept Templeton's unique designs, but the company has changed quite a lot in terms of management over the years.
Over the years, Toy Machine had various pro skaters on their team, including:
Brain Anderson
Elissa Steamer
Austin Stephens
Caswell Berry
Josh Harmony
The name "Toy Machine" can be a bit misleading for people who are not familiar with the company, but once you look at the playful graphics on their deck, the name fits. In fact, when first naming the company Templeton was struggling to choose between "Toy" and "Machine" as the company name.
Templeton's friend suggested combining the two together to name the company "Toy Machine Skateboards".
Not only can you buy skateboards from Toy Machine, but you can also find various skateboard components on their sites, such as decks, wheels, and hardware. Moreover, you can find skateboard accessories and apparel on their site too.
Toy Machine Skateboards Size
The best part about Toy Machine is that you get a lot of variety. In terms of deck size, you'll find various widths from mid-sized to full-sized decks. A good way to pick deck size is based on your skating still and your shoe size.
Toy Machine's mid-sized decks are usually 29.93-inches in length and 7.38-inches in width. This size is great for younger skaters between the ages of 9 and 12 with a shoe size 7 or 8.
On the other hand, you'll find many options to choose from if you want a full-sized deck. The widths for full-sized decks range from 7.5-inches to 8.5-inches.
You can pick your deck size according to your skating preferences. For instance, if you prefer street skating, we suggest picking a width between 7.5-inches and 8-inches.
Alternatively, if you prefer skating parks, pools, and ramps, a width between 8-inches and 8.25-inches will be perfect for you. We suggest getting a deck between 8.25-inches and 8.5-inches if you prefer verts and cruising. I appreciate the variety of sizes of this skateboard model, and it helps users to freely choose according to their wishes to make the best trip. At the same time, it also somewhat protects your safety.
Toy Machine Skateboards Deck Quality and Style
Contrary to what the company name suggests, Toy Machine decks are not breakable like toys. They have traditional 7-ply maple decks that are quite sturdy. This means you don't have to worry about damaging your board just after a few rides.
Yes, even though I have dropped the board many times and come into direct contact with hard surfaces, the wooden floor's quality has ensured that I am ready for many other races in the future.
What makes Toy Machine really stand out from all the other brands is its unique and vibrant graphics. From monsters, and aliens to goofy cartoon faces, you'll find them all on Toy Machine decks.
The graphics are eye-catching and look very cool.
See also: Top 16 The Best Skateboard Decks in 2022
Toy Machine Skateboards Wheel
Wheels are the most important component of your skateboard. To get the best skating experience, you need to ensure that your wheels are durable, flexible, and smooth. Fortunately, Toy Machine wheels guarantee all three of these features.
Toy Machine has high-quality wheels that are durable and will not wear out. These wheels are flexible, which means you get a lot of grip and control. You can steer around obstacles with ease, thanks to these wheels.
Besides, these wheels are as smooth as butter. A little push is all you need, and you'll be gliding down the streets.
If you're a beginner, it's best to get wheels with a diameter between 52 mm to 55 mm. These may be a bit slower, but they'll provide you with a lot of stability.
Alternatively, if you prefer speeding and skating on ramps and pools in skate parks, we suggest getting larger wheels with a diameter between 56 mm to 60 mm.
As Toy Machine wheels have eye-catching graphics on their wheels, it adds more character to your skateboard.
Best Toy Machine Skateboard
Now that we've looked at Toy Machine Skateboard's specific components, it's time to look at some of their top-selling skateboard models.
We'll discuss each board's pros and cons in Toy Machine deck review to help you get a better sense of the type of products Toy Machine manufactures.
1. Toy Machine Devil Cat Skateboard
View at Amazon || View at Socalskateshop
First up, we have the Toy Machine Devil Cat Skateboard. Measuring at 7.625-inches in wish, this board is made of 7-ply Canadian maple wood. The deck is sturdy and provides enough space for you to stand comfortably during your ride.
This board comes equipped with lightweight, aluminum grade 8 steel kingpins. The kingpins and the bushings allow you to maneuver around obstacles with ease.
Plus, this board has 52 mm 99A durometer wheels. As the wheels are smaller in size, they provide a lot of grips, making them perfect. The bearings are on the harder side, which means they spin fast. It is a good idea for you to implement the ability to adjust the speed. I have tested this feature and like it, allowing each ride to be more stable and safe.
The bearings have an ABEC5 precision rating, which is a bit low. But as long as you keep cleaning and lubricating these wheels, you should have no trouble.
Pros
The 7-ply maple wood deck is sturdy
Light-weight aluminum trucks allow for easy steering
Small wheels bring more stability
A harder durometer ensures speed
Cons
Low precision rating of bearings
Comes unassembled
Bottom line: The material quality of the Toy Machine Devil Cat Skateboard is the best available today to provide your safety, stability, and long service life. I appreciate the durable construction of the product and recommend that you buy it for more valuable trips.
2. Toy Machine Complete Pro Monster Skateboard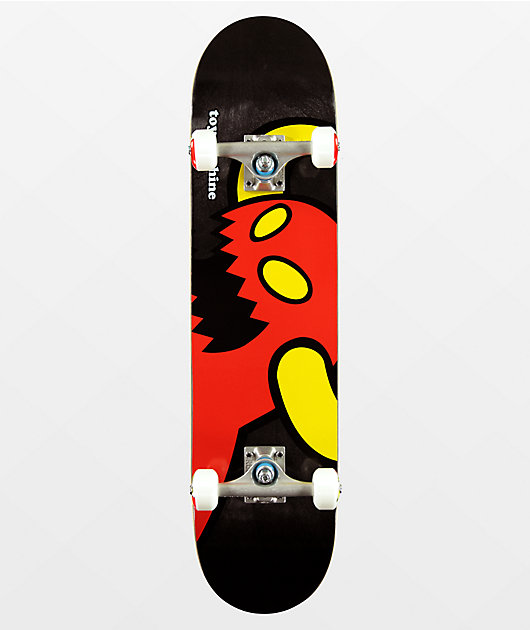 View at Amazon || View at Zumiez
If you prefer riding on pools and ramps in skate parks, then the Toy Machine Complete Pro Monster Skateboard is a great option to consider. This Toy Machine skateboard measures to 31.88-inches in length and 8.13-inches in width.
The mellow concave of this board makes it perfect for riding in skateparks and for performing tricks.  I used this product for training. Luckily after only a few weeks, I was able to get used to it and gradually progress to more advanced techniques. That feat is achieved thanks to the product's unique concave texture.
If you're picky with colors, you're in luck because this particular board comes in a variety of colors. Other than the monster graphics, you can select from the following colors:
The deck on this board has great pop. Besides, it comes equipped with heavy-duty trucks with grade 8 steel kingpins that give skateboarders more control.
As this board does not come assembled, you can get the full skateboarder experience and build it yourself. As your skills develop and you experiment with different styles, you can easily upgrade it by replacing the various components.
Pros
Mellow concave makes it perfect for skateparks
Various color options
Deck has great pop
Cons
Trucks may need replacement
Bottom line: If you are looking for a skateboard with a unique concave texture for high stability, then Toy Machine Complete Pro Monster Skateboard is a name not to be missed. This model is designed with a central recess for perfect grip on the foot. And that's what I like most about this product.
Is Toy Machine Skateboards a Good Brand?
We can easily say that one of the most distinctive features of Toy Machine Skateboards is their graphics. The vibrant, eye-catching graphics really add character to your skateboard.
Plus, the durable and flexible wheels on the Toy Machine boards promise a smooth skating experience.
If you're still struggling to make up your mind about Toy Machine Skateboards, may these overall pros and cons help you decide?
Pros
Years of experience give Toy Machine an upper hand over other companies
Wide range of deck sizes is available
Sturdy decks
Unique, eye-catching graphics
Wheels are durable and flexible, allowing for a smooth skating experience
Wide variety of skateboard sizes is available
Cons
Trucks can be weak
Low-quality bearings in some models
Conclusion
By now, you probably have a good idea about the type of skateboard Toy Machine Skateboard produces.
These skateboards are perfect for riders who prioritize durability over everything else. The colorful, eye-catching graphics are a nice bonus.
While Toy Machine Skateboards may be a bit expensive, the features make them worth the price.
We hope this Toy Machine Skateboards review helped you get better acquainted with the company and the type of features their boards come with.
Related posts: